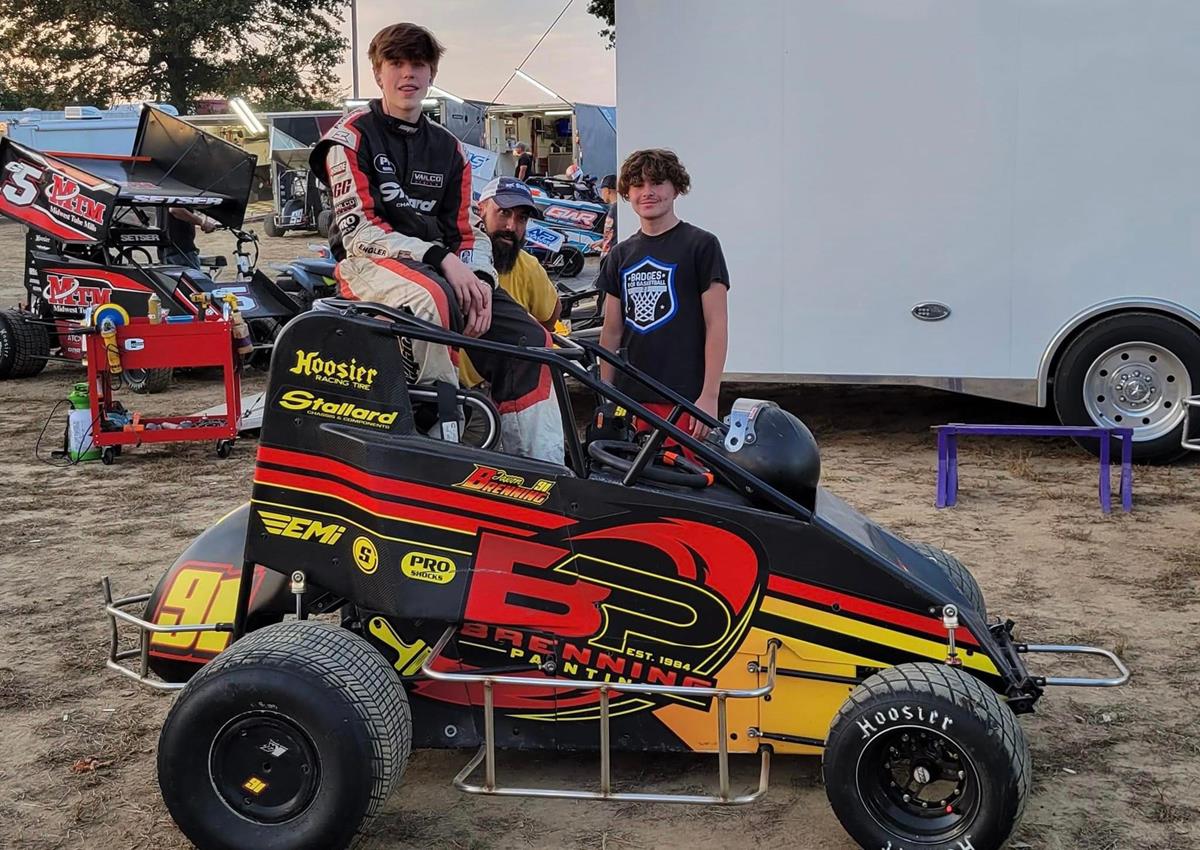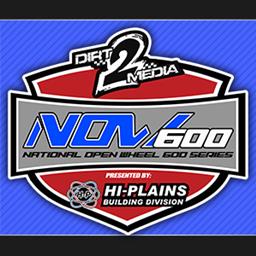 5/16/2022
NOW600 National Micros
---
Brenning and Hansen Best NOW600 Weekly Racing Opener at KAM Raceway
HASTINGS, Neb. (May 16, 2022) - Jaxon Brenning and Haidyn Hansen bested their respective NOW600 Hi Plains Building Division Weekly Racing class on Friday night during the season opener at KAM Raceway.
18 - Stock Non-Wing, 13 - Winged A-Class and 9 - Restricted 'A' Class Micro Sprints were in action at the Hastings, Nebraska oval.
Jaxon Brenning picked up the Stock Non-Wing feature event win with 12th starting Jason Friesen crossing in second. Greg Berry was third from ninth with Trevor Cohn in fourth. The top five rounded out with Ava Gropp.
Jake Lipker placed sixth with Josh Voorhees in seventh. Colton Mcwhirter picked up eighth with Zane Woodman ninth and Tyler Odle the top ten.
Cohn and Jadyn Friesen were heat race winners.
Brenning also topped the Winged A-Class feature event from fourth. Jason Friesen was second with Robbie Johnson placing third. Cody Berkenmeier was fourth and Hayden Holt up five spots to place fifth.
Greg Berry finished in sixth with Damian Nelson in seventh. Ethan Schweitzer was eighth at the line. Tyler Hendrickson claimed ninth and Matt Sweet was the top ten.
Berkenmeier and Jason Friesen were victorious in heat race action.
Haidyn Hansen took the win in Restricted competition. Evan Semerad was second at the line with Kamden Gossard in third. Sawyer Kiner was fourth and Titn Roberts the top five.
Ollie Geiger finished in sixth. Luke Samuelson was seventh. Mikyla Halte placed ninth and Kaylyn Vanwey the field.
Semerad was the lone heat winner.
KAM Raceway is back in action on Friday, May 20 with NOW600 Hi Plains Building Division Weekly Racing action on the card.
RACE RESULTS >>
5/13/2022 at KAM Raceway
NOW600 Hi Plains Building Division Weekly Racing
Winged A-Class | NOW600 A-Class Micros
A Feature 1 (25 Laps): 1. 91X-Jaxon Brenning[4]; 2. 1F-Jason Friesen[3]; 3. 99-Robbie Johnson[5]; 4. 8T-Cody Berkenmeier[9]; 5. 33-Hayden Holt[10]; 6. 67-Greg Berry[6]; 7. 14N-Damian Nelson[8]; 8. 26-Ethan Schweitzer[11]; 9. 14-Tyler Hendrickson[7]; 10. 7S-Matt Sweet[1]; 11. 19-Joel Kaczor[2]; 12. (DNF) 94-Mitchell Schweitzer[12]; 13. (DNF) 2F-Jadyn Friesen[13]
Heat 1 (10 Laps): 1. 8T-Cody Berkenmeier[2]; 2. 91X-Jaxon Brenning[3]; 3. 67-Greg Berry[1]; 4. 33-Hayden Holt[6]; 5. 14-Tyler Hendrickson[5]; 6. 26-Ethan Schweitzer[7]; 7. 2F-Jadyn Friesen[4]
Heat 2 (10 Laps): 1. 1F-Jason Friesen[1]; 2. 99-Robbie Johnson[5]; 3. 14N-Damian Nelson[2]; 4. 19-Joel Kaczor[3]; 5. 7S-Matt Sweet[4]; 6. (DNF) 94-Mitchell Schweitzer[6]
Stock Non-Wing | NOW600 Non-Wing Micros
A Feature 1 (25 Laps): 1. 91X-Jaxon Brenning[2]; 2. 1F-Jason Friesen[12]; 3. 67-Greg Berry[9]; 4. 29-Trevor Cohn[6]; 5. 5A-Ava Gropp[1]; 6. 21-Jake Lipker[11]; 7. 2V-Josh Voorhees[4]; 8. 98-Colton Mcwhirter[14]; 9. 4Z-Zane Woodman[3]; 10. 13-Tyler Odle[16]; 11. 33-Hayden Holt[10]; 12. 14-Tyler Hendrickson[8]; 13. 04-Kormick Linner[7]; 14. 14X-Kyle Kugel[15]; 15. 7R-Rob Lipker[13]; 16. 37-Josh Halte[18]; 17. 2F-Jadyn Friesen[5]; 18. 37C-Caleb Odle[17]
Heat 1 (10 Laps): 1. 29-Trevor Cohn[1]; 2. 91X-Jaxon Brenning[4]; 3. 04-Kormick Linner[6]; 4. 4Z-Zane Woodman[8]; 5. 33-Hayden Holt[3]; 6. 21-Jake Lipker[7]; 7. 7R-Rob Lipker[2]; 8. 14X-Kyle Kugel[5]; 9. (DNF) 37C-Caleb Odle[9]
Heat 2 (10 Laps): 1. 2F-Jadyn Friesen[4]; 2. 5A-Ava Gropp[9]; 3. 14-Tyler Hendrickson[5]; 4. 2V-Josh Voorhees[2]; 5. 67-Greg Berry[6]; 6. 1F-Jason Friesen[3]; 7. 98-Colton Mcwhirter[8]; 8. 13-Tyler Odle[1]; 9. 37-Josh Halte[7]
Restricted 'A' Class | NOW600 Restricted Micros
A Feature 1 (15 Laps): 1. 319-Haidyn Hansen[1]; 2. 59-Evan Semerad[4]; 3. 14G-Kamden Gossard[5]; 4. 14-Sawyer Kiner[3]; 5. 18-Tityn Roberts[2]; 6. 7G-Ollie Geiger[6]; 7. 27-Luke Samuelson[7]; 8. (DNF) 37-Mikyla Halte[9]; 9. (DNF) 21K-Kaylyn Vanwey[8]
Heat 1 (10 Laps): 1. 59-Evan Semerad[6]; 2. 319-Haidyn Hansen[7]; 3. 14-Sawyer Kiner[8]; 4. 14G-Kamden Gossard[4]; 5. 18-Tityn Roberts[1]; 6. 7G-Ollie Geiger[2]; 7. 27-Luke Samuelson[3]; 8. 21K-Kaylyn Vanwey[5]; 9. (DNF) 37-Mikyla Halte[9]
---
Submitted By: Terry Mattox
Article Media
Back to News