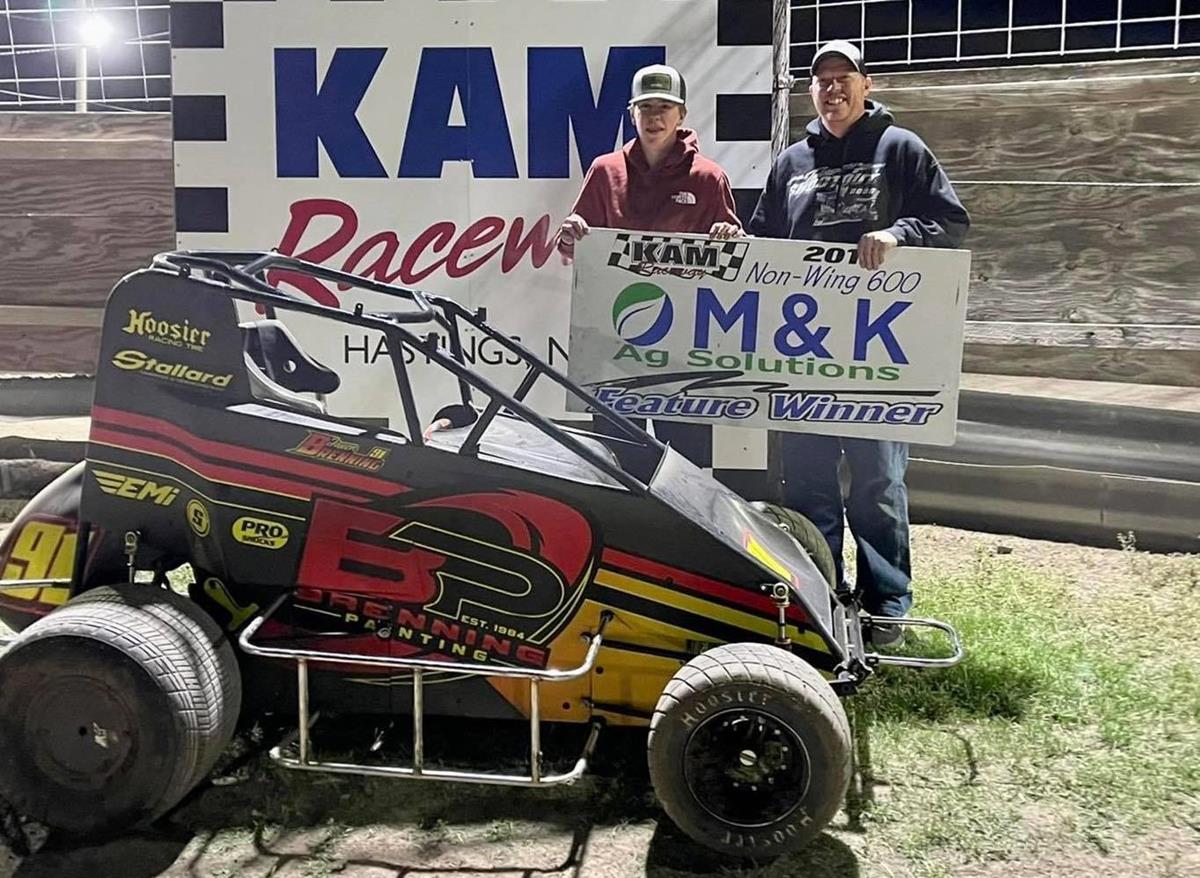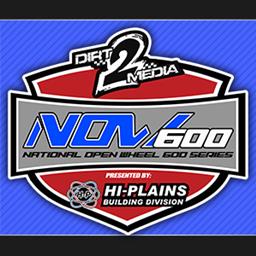 5/22/2022
NOW600 National Micros
---
Brenning, Friesen and Gossard Best NOW600 Weekly Racing at KAM Raceway
HASTINGS, Neb. (May 22, 2022) - Jaxon Brenning, Jadyn Friesen and Kamden Gossard each topped their respective NOW600 Hi Plains Building Division Weekly Racing class at KAM Raceway on Friday.
20 - Stock Non-Wing, 19 - Winged A-Class and 10 - Restricted 'A' Class Micro Sprints made the call for Friday night action.
Jaxon Brenning bested the Stock Non-Wing class. Jake Galusha was second with 16th starting Jackson Kounkel rounded out the podium. Jadyn Friesen was fourth and Gaige Weldon made up the top five.
Friesen and Ava Gropp were heat winners.
Jadyn Friesen topped the Winged A-Class feature event. Skylar Hunter crossed in the second spot with Jackson Kounkel finishing in third. Jake Galusha from tenth crossed in fourth and Jason Friesen the top five.
Tyler Hendrickson and Jason Friesen each picked up heat wins.
Kamden Gossard picked up the Restricted 'A' Class feature event win. Sawyer Kiner was second at the line. Ollie Geiger was third with Evan Semerad in fourth and Haidyn Hansen the top five.
KAM Raceway is back with weekly racing action on Friday, May 27.
RACE RESULTS >>
5/20/2022 at KAM Raceway
NOW600 Hi Plains Building Division Weekly Racing
Winged A-Class | NOW600 A-Class Micros
A Feature 1 (25 Laps): 1. 2F-Jadyn Friesen[1]; 2. 7S-Skylar Hunter[4]; 3. 38-Jackson Kounkel[8]; 4. 5K-Jake Galusha[10]; 5. 1F-Jason Friesen[5]; 6. 91X-Jaxon Brenning[7]; 7. 35-Gaige Weldon[12]; 8. 04-Kormick Linner[13]; 9. 33-Hayden Holt[9]; 10. 8T-Cody Berkenmeier[2]; 11. 99-Robbie Johnson[14]; 12. 33T-Maddie Fritz[11]; 13. 89-Jon Schriner[16]; 14. 67-Greg Berry[15]; 15. 62K-Kaden Fritz[19]; 16. 7-Matt Sweet[17]; 17. 21-Rayce Lockman[6]; 18. 14-Tyler Hendrickson[3]; 19. 44-Samuel Holt[18]
Heat 1 (10 Laps): 1. 14-Tyler Hendrickson[1]; 2. 91X-Jaxon Brenning[7]; 3. 33-Hayden Holt[4]; 4. 2F-Jadyn Friesen[8]; 5. 21-Rayce Lockman[2]; 6. 33T-Maddie Fritz[5]; 7. 04-Kormick Linner[9]; 8. 67-Greg Berry[10]; 9. 7-Matt Sweet[3]; 10. 62K-Kaden Fritz[6]
Heat 2 (10 Laps): 1. 1F-Jason Friesen[4]; 2. 7S-Skylar Hunter[2]; 3. 38-Jackson Kounkel[6]; 4. 8T-Cody Berkenmeier[3]; 5. 5K-Jake Galusha[7]; 6. 35-Gaige Weldon[9]; 7. 99-Robbie Johnson[5]; 8. 89-Jon Schriner[8]; 9. 44-Samuel Holt[1]
Stock Non-Wing | NOW600 Non-Wing Micros
A Feature 1 (25 Laps): 1. 91X-Jaxon Brenning[4]; 2. 5K-Jake Galusha[1]; 3. 38-Jackson Kounkel[16]; 4. 2F-Jadyn Friesen[3]; 5. 35-Gaige Weldon[7]; 6. 1F-Jason Friesen[2]; 7. 5A-Ava Gropp[9]; 8. 7R-Rob Lipker[15]; 9. 67-Greg Berry[5]; 10. 4-Lonnie Schriner[6]; 11. 29-Trevor Cohn[11]; 12. 14-Tyler Hendrickson[19]; 13. 98-Colton Mcwhirter[10]; 14. 33-Hayden Holt[12]; 15. 37-Josh Halte[14]; 16. 04-Kormick Linner[17]; 17. 89-Jon Schriner[18]; 18. 37C-Caleb Odle[20]; 19. (DNF) 4Z-Zane Woodman[8]
Heat 1 (10 Laps): 1. 2F-Jadyn Friesen[3]; 2. 98-Colton Mcwhirter[2]; 3. 1F-Jason Friesen[1]; 4. 67-Greg Berry[7]; 5. 5K-Jake Galusha[9]; 6. 29-Trevor Cohn[8]; 7. 21L-Rayce Lockman[4]; 8. 7R-Rob Lipker[10]; 9. 04-Kormick Linner[6]; 10. (DNF) 14-Tyler Hendrickson[5]
Heat 2 (10 Laps): 1. 5A-Ava Gropp[1]; 2. 91X-Jaxon Brenning[5]; 3. 35-Gaige Weldon[8]; 4. 4Z-Zane Woodman[7]; 5. 4-Lonnie Schriner; 6. 33-Hayden Holt[6]; 7. 37-Josh Halte[3]; 8. 38-Jackson Kounkel[9]; 9. 89-Jon Schriner[2]; 10. (DNF) 37C-Caleb Odle[4]
Restricted 'A' Class | NOW600 Restricted Micros
A Feature 1 (15 Laps): 1. 14G-Kamden Gossard[1]; 2. 14-Sawyer Kiner[3]; 3. 7G-Ollie Geiger[4]; 4. 59-Evan Semerad[5]; 5. 319-Haidyn Hansen[2]; 6. 30-Kyler Bearce[9]; 7. 27-Luke Samuelson[7]; 8. 37-Mikyla Halte[8]; 9. 21K-Kaylyn Vanwey[6]; 10. (DNF) 18-Tityn Roberts[10]
Heat 1 (10 Laps): 1. 319-Haidyn Hansen[8]; 2. 59-Evan Semerad[2]; 3. 14G-Kamden Gossard[9]; 4. 14-Sawyer Kiner[4]; 5. 7G-Ollie Geiger[3]; 6. 21K-Kaylyn Vanwey[1]; 7. 27-Luke Samuelson[6]; 8. 37-Mikyla Halte[10]; 9. (DNF) 30-Kyler Bearce[7]; 10. (DNF) 18-Tityn Roberts[5]
---
Submitted By: Terry Mattox
Back to News