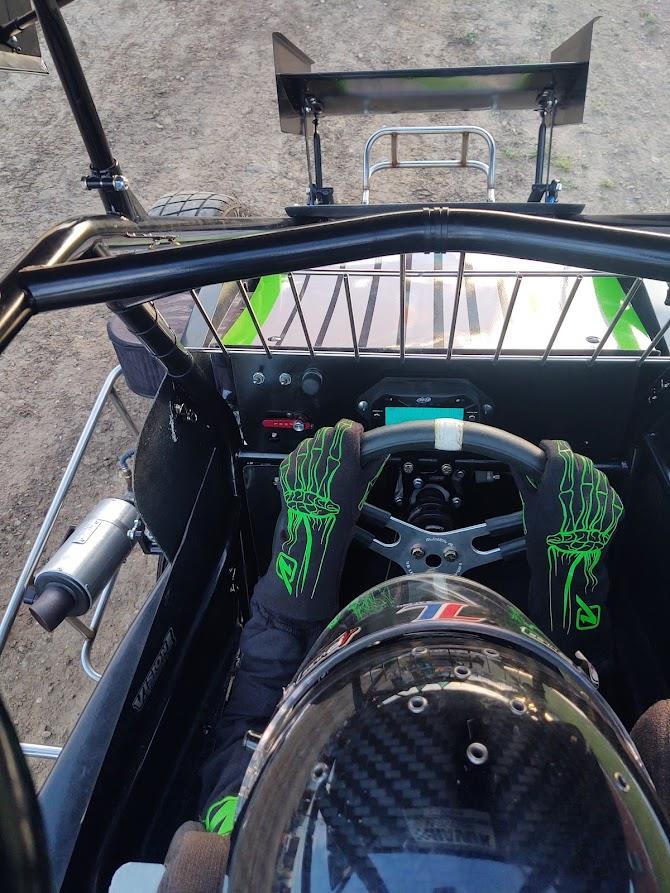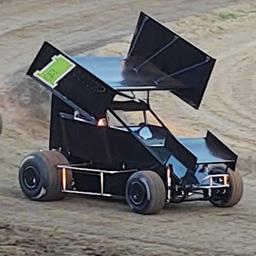 ---
Sparks Brings Home Sixth From KAM
Sparks Brings Home Sixth From KAM
KAM Raceway; Hastings, NE
By: Stephanie Sparks
With the weather forecast not looking favorable for racing on Saturday, the team made the decision to make the drive to KAM Raceway for their weekly show just outside Hastings, Nebraska on Friday to get in some weekend racing. After some navigational delays through traffic, the team made it to the track in time for the heat race after missing hot laps.
HEAT:
In the ten-lap heat, Sparks started inside row five in the ten car field. Having never seen or been on the track, Sparks stayed back a bit from the field on the start to get a feel for what he had. As he completed the first lap, he was racing side by side in 8th position. On the second circuit, he moved under the #27 of Luke Samuelson moving up one more spot.
The remainder of the race, he was in a battle with pole setter Kaylyn Vanwey. Sparks would pull up on the back of the #21K and get a nose to the inside but not far enough to take the position. Meanwhile, Kyler Bearce in his #30 car was racing the high side through the corners while Sparks was trying to find a way around Vanwey. At the halfway point, Bearse took to the high side at both ends of the track and moved ahead of both Sparks and Vanwey on the same lap.
Sparks tried to follow in the tracks of Bearse, trying out a higher line but was unable to move past the Vanwey car. The #319 of Haidyn Hansen picked up the heat win from 7th starting position. On the final turn, Sparks was able to move ahead of Vanwey to finish in seventh position.
FEATURE:
The ten car field was set for their 15-lap feature event. Ollie Geiger and Sawyer Kiner set the pace out front. Sparks lined up in ninth position of the ten starters. The initial start was called back and the second start saw the car just ahead of Sparks spin in turn two bringing out the caution and moving Sparks to the inside of row four for the start.
The third try was the key as the field motored around the track for the first pair of laps with Sparks running in 7th place just behind Bearse. The two out of state drivers were just a corner behind the lead pack of five Nebraska drivers, keeping pace just behind.
With only two laps remaining, Kamden Gossard brought out the caution and had to go to the back, moving Sparks up to 6th position in the running order. After some chaos of cars stalling out, bad restarts, and passing under the restart cone, the final pair of laps were clicked off with Hansen getting the sweep picking up the feature win from 5th, Kiner, Evan Semerad, Geiger, and Bearse were the top five.
Upcoming Schedule:
MIRCO RACING:
6/4: JayHusker Series Washington Speedway; Washington, KS
6/11: Sweet Springs Motorsports Complex; Sweet Springs, MO
6/18: Sweet Springs Motorsports Complex; Sweet Springs, MO
6/22-6/23: Thunder Hill; Menomonie, WI (tentative)
6/25: Mississippi Thunder; Fountain City, WI (tentative)
OR Sweet Springs Motorsports Complex; Sweet Springs, MO
2022 Partner/Sponsor Appreciation
Autoland; Sioux Falls, SD
Furby's Auto Repair; Sioux Falls, SD
GRP Motorsports; Stillwater, MN
Last Deck LLC; Jackson, MN
Heser Auto and Detailing; Jackson, MN
Hawk Wings; Jackson, MN
G-Force Chassis; Concordia, MO
Schure Build Suspension; Slater, MO
MyRacePass; #TeamMRP #GetTheApp
TL Racing; Jackson, MN
Living Like Outlaws
MICRO STATS:
Shows: 2
Wins: 0
Top 5: 0
Top 10: 2
Heat Wins: 0
YTD KART Stats:
Shows: 10
Wins: 4
Top 3: 8
Top 10: 10
Heat Wins: 3 out of 6
Quick Times:0 out of 4
---
Article Credit: Stephanie Sparks
Back to News